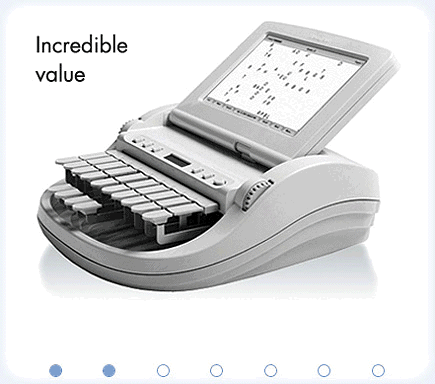 The Wave™
With TrueStroke™ technology, the Wave enables you to do your best right from the start. It's made by Stenograph, the undisputed leader in keystroke science and steno machines.
The perfect paperless steno writer for students. Watch your accuracy soar with the Wave steno machine. The vibrant flat-panel screen clearly displays steno outlines as you write them, giving you the best kind of feedback -- immediate feedback -- to enable you to practice proper technique while you build speed. The phenomenal touch of this writer will speed you on your way to success.
The ideal steno writer for realtime captioners
Using the same extraordinary technology as the professional Diamante steno writer, the Wave writer provides amazing results at a fraction of its cost. By eliminating redundancy yet keeping the phenomenal TrueStroke technology from the Diamante the Wave enables cleaner output than ever.

Students Love the Wave
Students are falling in love with the Wave for all the reasons listed above and more:
Has the same touch and feel as a professional writer so you can write more and fatigue less.

It's lightweight.

Gives immediate feedback with a computer – or without one!

It's paperless.** Go green and save nearly $300 per year that you would spend on paper and writer supplies.

The Wave is the only student writer that works with TrueView™ to help you identify shadows and stroking issues without the cost of paper.

The Wave is the smartest student writer ever created. It naturally adjusts for you so you can move effortlessly from beginner's touch to professional touch on the same writer.

The Wave's large LCD screen lets you easily see what you have stroked. No need to spend hours looking at blotchy letters on stenopaper!

The Wave has the lightest touch ever in a student writer so you wave goodbye to the fatigue from pounding on a manual writer!

Startup screen can be customized to display your favorite image.

Includes the classic black tote with a removable shoulder strap.
"I love the large screen, beingable to scroll through my notes easily, and the new upgrade showing how many words per minute I'm writing."
"There is simply no comparisonto previous technology … I feel as though it took far more energy to write outlines on my previous machine as compared to the smooth technology of the Wave."
"It takes less time to write a steno outline by not needing to press on the keys in the same manner as before."

Loading