CATalyst BCS enables you to caption live television broadcasts and Internet streaming events including You Tube®. It utilizes integrated live display and scripted program features. Display options let you view your realtime translation, make corrections to the translation, preview the text that displays on the viewer's television or computer screen and organize story scripts for re-sending. BCS is compatible with Stream Text, iCap™ by EEG Enterprises and others.

CATalyst BCS – Broadcast Captioning Suite for Case CATalyst
CATalyst BCS software is optimized for the highly-visible work of realtime captioners and subtitlers. It utilizes integrated live display and scripted program features to make you look your best.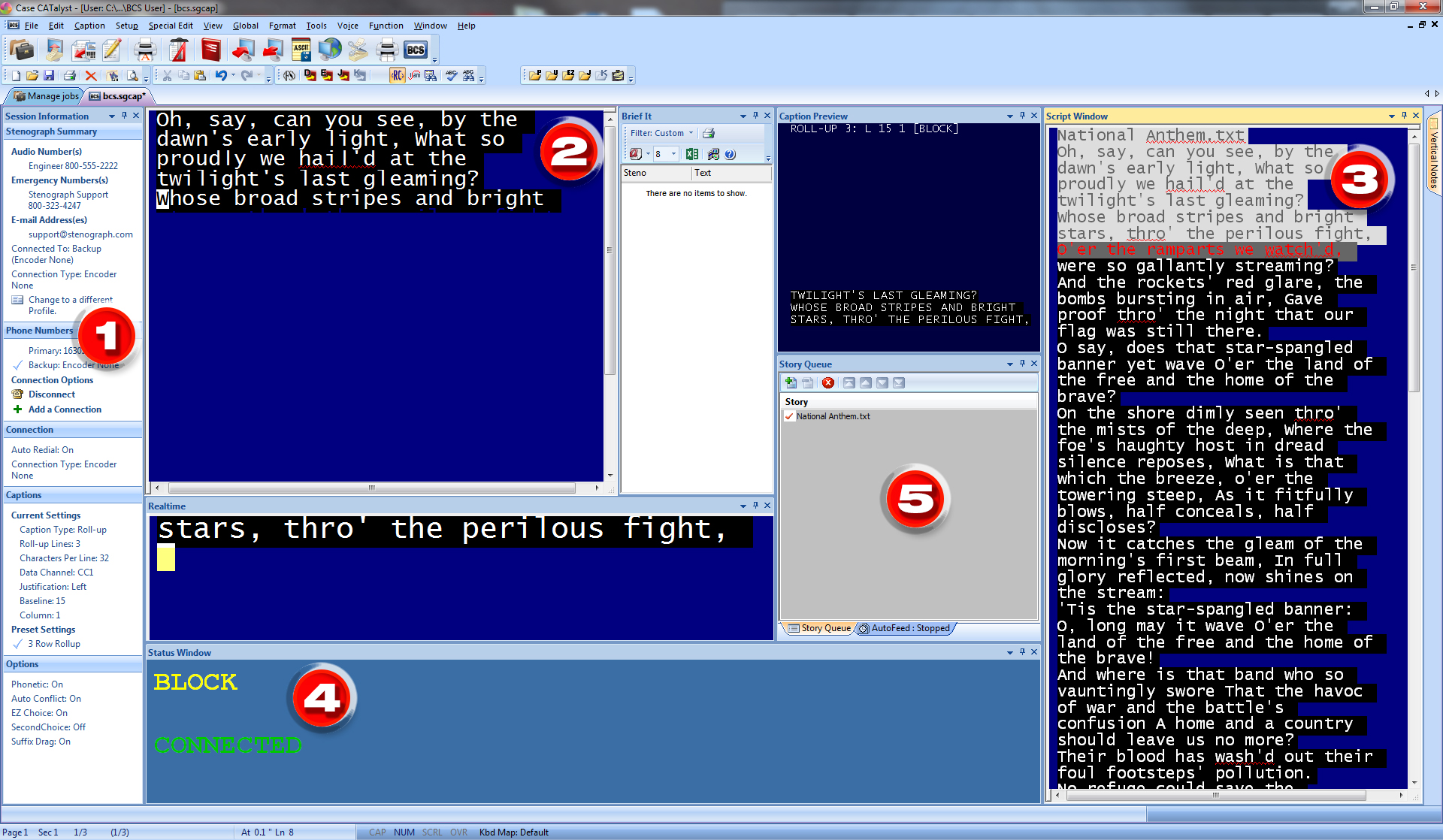 Customizable [1] Profiles for your assignments including dictionary selections, encoder and modem setup, NIK files, emergency numbers, notes, etc., makes getting ready for a job a snap.

The [2] History Window contains realtime text and any script file text. Edit and save all or a portion for script use.
See how your captions look on a viewer's TV with [3] Caption Preview …even when you can't watch the program yourself!
The [1] Status Window indicates Block, Pass and Suspend Modes. It flashes to draw your attention to a modem disconnect and when in Suspend mode.


[5] Story Queue lists individual stories or several stories with story slug separators. Send line-by-line via steno keyboard, computer keyboard or NIK keyboard…it's your choice!

Too much information? Not enough? Float, hide, doc to size any pane on your workspace to suit your preference!
This is an Add-on option for your existing CATalyst Pro license. If you do not already have a CATalyst Pro license, you will need to purchase CATalyst Pro and this add-on. To speak with a representative, please call 800-323-4247. Or email sales@stenograph.com.

After purchase, it may take one business day for this option to be added to your CATalyst Pro license.

What's Included
License for the current version of CATalyst BCS

Product Key Code (PKC) for non-simultaneous use on up to four computers

One year of Edge Support

Access to any updates issued in the first year
Training Included
Six training coupons for remote training with
a Stenograph Certified Training Agent

are in
cluded with the purchase of BCS Full with CATalyst, and four training coupons when purchasing BCS as an add-on to CATalyst Pro.


Click
here

for warranty information, terms and conditions.

Loading