2005
Stentura Protégé Student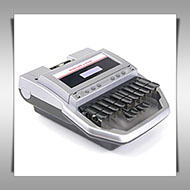 The Stentura Protégé was specifically designed for use by students. The Stentura Protégé features USB and serial connectivity as well as optional wireless realtime. It features many of the benefits of the Stentura Fusion but at an affordable student price.
2005
Stentura élan Mira Student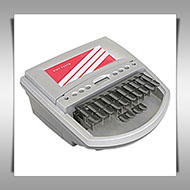 The élan Cybra Student was specifically designed for use by students. Known as the "paperless writer for students," the Cybra Student features the same technology that's in the professional version, but in a limited fashion at a student price. This model also features wireless capability.

2006 Stentura Fusion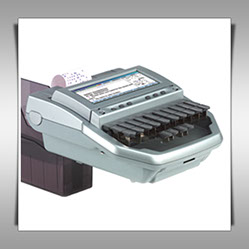 Replacing the Stentura LX series is the Stentura Fusion. The key feature of this machine is its ability to use paper or to function paperlessly. Other improvements are compatibility with SD (Secure Digital) cards, recording live testimony using AudioSync OTG - on the go!, USB and DB9 ports, and battery status display.


2009 The Diamante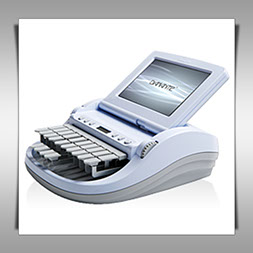 The Diamante writer was launched at the National Court Reporter's convention in Chicago, Illinois, with much acclaim. Its TrueStroke® technology was quantum leaps above any other mechanical or electronic methodologies for speed and accuracy. It featured a vibrant flat-panel display, two SD cards, two USB ports, microphone and headset jacks for AudioSync; and optional Bluetooth or WiFi realtime translation. Weighing in at only 4.5 pounds, it lightened the load of the mobile court reporting professional.
The esthetic of the Diamante was applauded by court reporters and even received Appliance Magazine's Excellence in Design Award for the year 2010.






2015
The Luminex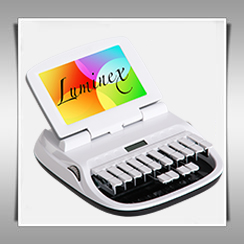 The Luminex features innovative computer technology and advanced software science to provide something entirely new. The Luminex is smaller and lighter, has an extraordinary degree of precision, and provides the finest writing experience ever.
The most important thing about this writer is what's invisible! Under-the-hood, dual key channels keep keys more in alignment on the way down and reduce vibration. Key levers are guided through a dual-channel comb for stability and responsiveness. The frame is now made of magnesium which is much lighter but equal to or stronger than aluminum, and even stronger than titanium. The real magic happens with TrueStroke which was in the Diamante and has evolved to be better and better over the years. It is even more advanced and the result is cleaner steno notes. You can be a pounder, have the lightest touch ever, or anywhere in between and TrueStroke will make you a better writer than before.

Loading