The mastery that is Case CATalyst uses predictive analytics, intelligence, and common sense to provide cleaner translation, streamlined editing, and sophisticated delivery methods, giving you back a valuable commodity—free time!
Simply write what you hear…that's it! CATalyst will take it from there so YOU don't have to! Case CATalyst intelligently formats dollar amounts, times of day, measurements, addresses, prefixes, and suffixes, plus it resolves conflicts based on context. All you have to do is check it, and you're on your way to a finished transcript.
Have You Heard About the New AudioSync?
What You'll Get: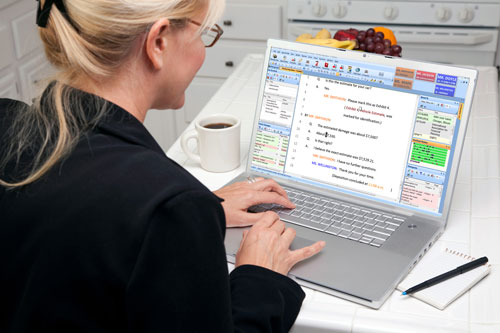 Six new fidelity and file size choices

Superior hardware optimization

What You'll Hear:

Sharper sound quality

Less background noise
What You'll Love:
Drastically reduced replaying

Faster editing and proofing

Courtroom Audio Before
Courtroom Audio After
---




Automatic Number Conversion understands numbers and formats them correctly.
No additional strokes needed!
Write what you hear; Case CATalyst correctly formats your numbers.
---

Speaker Management Tools virtual Seating Chart removes the need to use paper or arrange business cards.
Be reminded of stroke used to write a speaker.

Always know who is speaking, even in a crowded room!

Are speakers changing location? No problem, easily reposition them on your screen.

---


Job Start Time and Job End Time Fields

Don't Waste Time… Especially on Time!
Filling in the time a job starts and what time a job ends can involve several steps and use editing time. Now, only one quick step is required!
The Start Time and End Time fields can now be placed inside of the include pages. When the job begins you write a stroke to set the start time and when the job ends you write a stroke to set the end time.
Case CATalyst takes care of placing the time in the correct transcript location. No more writing down times on paper or manually typing in times!




Loading