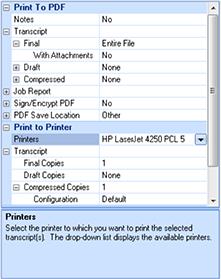 Now when you're done … you're really done!

With Finish 'em, a single click can print a transcript and notes to PDF, create an ASCII, create and print a job report to PDF, and export notes, dictionary and text files to RTF/CRE and then export a transcript to CaseView™ Net. One click and your job is truly finished!
Include attachments with the Final, Draft and/or Compressed options
for Print to PDF.

Print to a Printer available along with printing to PDF.

Now it is faster to do everything that is needed to finish the job. All in one step!b is truly finished!
Tran/Edit Tools Attach Exhibits to Transcripts and in PDF Files
Attach an exhibit of any file type to a specific location in the transcript and easily view it in context.

Optionally include the attachments in the PDF transcript, both full and condensed, for viewing with the free Adobe Reader.

Free yourself from peripheral software while providing superior service to your clients at no additional cost to you.

Readily access exhibits in context to accurately create exhibit descriptions.


---
CartView
CARTView shows text in a separate window on the same computer, or it can be dragged to another monitor or tablet using a sharing program.
How to share CARTView:
Dedicate a portion of your screen to share with your consumer.

Share on a separate monitor, IPad or tablet.

Show remotely via online meeting software.

How to enrich the audience's experience:
Customize font style, size, color, and background.

Adjust transparency for layering over other active windows.

Resize window, margins, and spacing for optimum aesthetics.

Snap to top, bottom, and sides without tedious manual resizing.

How to never let 'em see you sweat!
Keep your CATalyst screen for your eyes only.

Be free to use Brief It, CAT Scratch, and Power

Defines with abandon.

Never change YOUR display settings.

Instantly recall saved audience preferences.


Loading